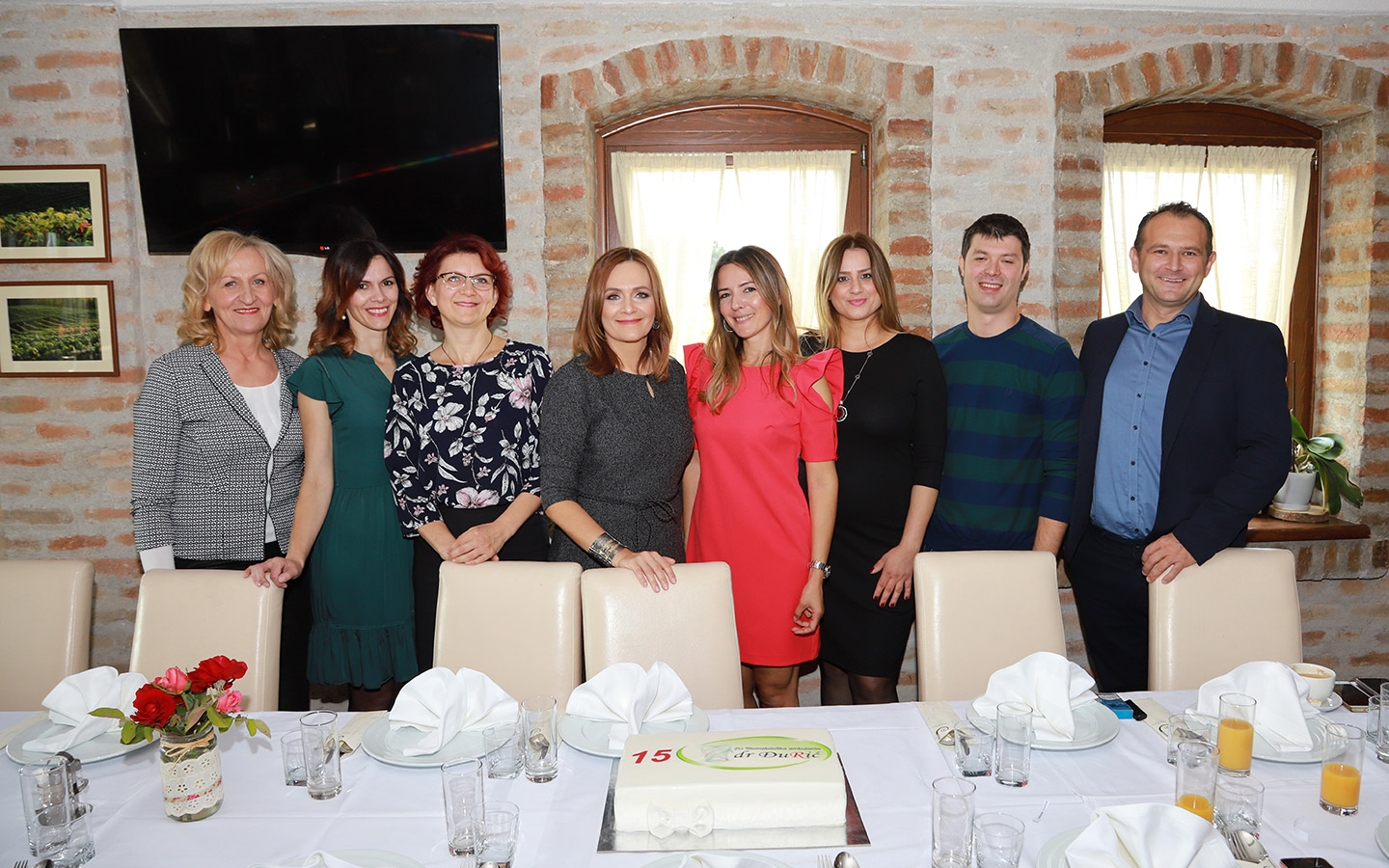 In a festive atmosphere held at the Jungić Winery, in the presence of colleagues and business associates led by Dr. Marija Đurić and Dr. Igor Đurić, Dental Clinic with Dental Laboratory "Dr. Đurić" officially marked 15 years of successful business.
Dr. Marija Đurić addressed the audience, referring to the successful 15 years, recalling the challenges that followed them and which resulted in success, with a brief presentation of the future. Dr. Đurić introduced her employees, thanked them for their selfless commitment and support, and thus sent a message of togetherness, entrepreneurial vision and continuous development and progress, thanks to the entire team.
During her address, she pointed out that this is a significant jubilee that very much shows maturity, strength and gives everyone together another greater motive for further work, improvement, progress and providing the most modern services to their patients.
Dr. Đurić is certainly a force for development, an institution of great importance for the citizens of Celinac Banja Luka, the region and abroad.
"Dr Đurić" has seven employees, specialist in dental prosthetics Dr. Marija Đurić, specialist in oral surgery Dr. Igor Đurić, doctor of dentistry Bojan Vrhovec, three dental nurses Dragana Jungić, Slavica Vadić, Sanela Berić and dental technician Vesna Berić.
Long-term business associates are also a wind in our backs in every one of our endeavors - Dr. Marija pointed out.
In a pleasant atmosphere, good wine and relaxed conversation, they exchanged many common impressions.
"In 15 years of our work, we have developed into an institution that has seven employees, in which we are able to provide services in all areas of dentistry using the most modern methods and materials.
Professional and friendly staff, pleasant and modern ambience provide patients with trust, attention, safety and relaxation. Our team "Dr. Đurić" provides the best in dentistry, whether it refers to the professional part or patient care.
The advantage of our Dental Clinic "Dr. Đurić" is that everything is made in one place in their own laboratory and clinic so that patients can participate in certain phases of work in the design of crowns and bridges, the choice of shape and color "- at the end of the interview for our portal biznispromo.com was sent to us by Dental Clinic with Dental Laboratory "Dr. Đurić".